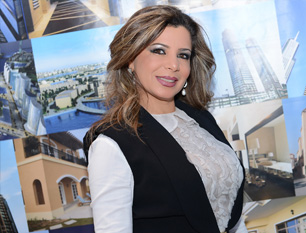 Eng. Salwa Malhas states: "Queue Point Project perfectly meets the requirements of investors and leaseholders"

Al Mazaya Holdings revealed its participation at CITYSCAPE-Kuwait exhibition and conference to be held for the first time at Kuwait International Exhibition Centre between December 7th – 9th 2014, running in parallel with its promotion to market innovative Queue Point residential projects located at Dubai Land; a project offering 52 residential units dedicated to middle class accommodations.

Speaking on the occasion, Eng. Salwa Malhas, Chief Business Development and Marketing Officer at Al Mazaya Holdings, said that the sale and delivery of the project units in which it directly owns 26 plots, is currently progressing while it proceeds to develop the remaining units mostly dedicated to serve investors. During the current year, Al Mazaya has delivered a large number of units and is still constructing more buildings with the aim to deliver next year.  
She added that Al Mazaya will exhibit through an innovative booth at CITYSCAPE-Kuwait promoting its most recent projects in the local and regional markets, and its wide range of architectural solutions which are designed to meet the local requirements of the Kuwaiti market. CITYSCAPE-Kuwait is the latest exhibition amongst Al Mazaya's participation at CITYSCAPE International Exhibitions and it is expected to be of the highest quality amongst investment and real-estate development exhibitions hosted by Kuwait. At this exhibition, Al Mazaya reaffirms its brand as one of the leading real estate developers which has developed mega real estate projects over 10 years, making great milestones in the real estate market.

At Cityscape Kuwait, Al Mazaya will present its real estate portfolio which includes projects in different countries in the region, including projects that serve the logistics sector such as Al Mazaya Logistics in Bahrain, which offers storage solutions. The company has other projects in residential, commercial and office spaces sectors.

She added that Al Mazaya's most exciting offer will be at the Queue Point Project, which offers residential units for middle-class groups and is strategically situated in Dubai Land, one of Dubai's most vibrant and vital areas, and an added value to the future landscape of the emirate, with state of the art residential and entertainment facilities, including one of the largest amusement cities in the Arab World. "Al Mazaya will offer very competitive prices starting from KWD49,000 including amazing offers for a limited period, along with a free kitchen supplied to the unit, 20% coupon offered by Options Furniture along with excellent finance facility up to 75% and easy installments, offered by a UAE based approved financing institution", she added.

Commenting on this participation in the exhibition, Eng. Malhas said: "This promotion has received an overwhelming response in Dubai, because the residential units at Queue Point meet the demand of investor and tenant, alike. Return on investment in residential units is not less than 8%, and is expected to increase with the growing demand on buying residential units and upon completion of the mega projects currently underway in the region".

The growing demand for residential units at Q-Point is driven by the above 75% completion rate, and the remarkable success of the previous promotional campaigns. Through these promotions, Al Mazaya seeks to attract new customer groups, in addition to residents and investors in Dubai and the UAE.

Queue Point Project is ideally located on the main conjunction connecting Sheikh Mohammad Bin Zayed Road and Al-Ain road offering quality life residencies. The Project hosts a 5 to 10 floor multi-use premise designed to produce elegant apartments in varied areas and architectural themes.

Malhas elaborated: "under the given expectations of increasing lease rates and rising demand for residential units and investment real-estate across Dubai; a general tendency has emerged for long-term investment in integrated multi-area residential units ideally located and offering competitive prices.

Queue Point Project investment opportunities are widely accepted by a large segment of the middle-class seeking to invest at the right time in order to avoid escalating lease rates, while equally achieving rewarding investments returns".
Queue Point Project is constructed on 13 million square feet offering one, two or three - bedroom apartments of 55 - 80 m² for one-bedroom apartments, 100 - 135 m² for two - bedroom apartments, while the area of the three-bedroom apartments is over 148 m².

Malhas concluded: "Dubai is one of the attractive destinations to the regional and international investors and a haven to so many expatriates and visitors, due to its state of the art infrastructure and entertainment services which encourage investments in all its projects".