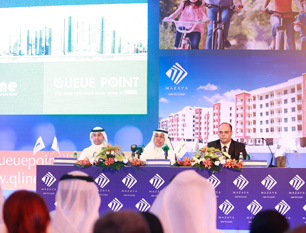 Al Mazaya Holding completes 3131 residential apartments and launches Q-Line project for middle income residents
Soq'abi: Q- Line confirms Al Mazaya's commitment to provide high quality residential units for middle income groups
Dubai, UAE, 21st of April 2015:
Al Mazaya Holding announced the launch of Q-Line, a new residential project for middle income groups in Dubai. The announcement was made in a press conference that was held in The Ritz Carlton Hotel in Dubai, yesterday. The launch of Q-Line comes on the back of the success made by Al Mazaya at Queue Point located in Dubai Land, which consists of 52 buildings for middle income groups.
The press conference was attended by Mr. Rashid Al Nafisi, Chairman of Al Mazaya Holding, Eng. Ibrahim Al Soq'abi, Group CEO of Al Mazaya, Eng. Salwa Malhas, Chief Marketing and Business Development Officer and Mr. Khalid Abdul Latif, Acting CEO of Al Mazaya Company in Dubai.
The conference began with a welcome speech delivered by the Chairman of Al Mazaya Holding, in which he commended the Dubai market and spoke about how Al Mazaya was welcomed in a warm reception and supported by government authorities and the private sector in Dubai. He launched the company's new project "Q-Line" then, attendees watched a video about Al Mazaya's achievements, with a particular focus on the new Queue Point project.
The Group CEO delivered a detailed presentation about the company's services, projects and achievements in 2014 and the upcoming projects in 2015. Al Soq'abi pointed to the company's positive results in the first quarter of 2015, which was announced only a week ago. The company achieved a 16.6% growth in its profit, compared to the corresponding period in 2014 and a 175% increase in operating revenues generated from sale and lease operations.
At the end of the press conference, Al Mazaya honored its strategic partners, including a number of officials in Dubai government departments and media representatives from the GCC countries in recognition of their outstanding efforts which have significantly contributed to the success of Al Mazaya Holding in recent years.
In his speech at the press conference, Mr. Rashid Al Nafisi, Chairman of Al Mazaya Holding, expressed his pride of the tremendous achievements made by Al Mazaya in different markets over the last few years, reiterating that these achievements will have a positive short-term impact on the company's financial results. He said: "Al Mazaya Holding is striving to raise its profile in the real estate market as one of the Middle East's leading real estate developers. The company is keen to seize the best and most feasible opportunities to generate the best returns on investments, while ensuring the delivery of the best services in accordance with the highest international standards in this vibrant sector. We have an increasing demand from end users in the thriving real estate market in the UAE in general and Dubai, in particular".
He added: "Al Mazaya has made new additions to its project portfolio by launching large-scale projects that meet the demand of local markets and enable different social groups to own residential units at reasonable prices. Most prominent of these offerings are the Queue Point which targets the middle income group and the Q-Line residential project which is set to complete the resounding success made by our projects in the UAE".
Eng. Ibrahim Al Soq'abi, Group CEO of Al Mazaya Holding, said: "Q-Line comes on the back of the increasing demand for residential units in Queue Point by investors and buyers, being a leading project that offers an integrated residential environment, with high quality services, state of the art infrastructure and vibrant facilities that meet the aspirations of a large group of buyers. The project boasts a strategic location on the junction between Sheikh Mohammed bin Zayed Road and Al Ain Road".
Al Soq'abi added: "Q-Line reflects Al Mazaya's commitment to meet the market demand by offering projects for all groups of society and providing high quality residential projects at reasonable rates Q-Line is a high end multi-building project strategically situated in the heart of Dubai Land, the future tourism destination in Dubai, at the junction between Sheikh Mohammed bin Zayed Road and Al Ain Road, neighboring Dubai Academic City and Dubai Silicon Oasis. The project is inspired by the urban architecture model of San Francisco City, comprising of four buildings, ranging in height from 9 to 14 stories tall. It spreads over a total area of 150,000 square feet, consisting of residential units at affordable prices, ranging from studio, one bedroom and two bedroom apartments with stunning designs that combine convenience with elegance. The project is surrounded by green spaces that reflect the lovely modern lifestyle. Studio apartments ranged from 369 to 970 square feet, one bedroom apartments from 780 to 1485 square feet and the two bedroom apartments from 1109 to 1462 square feet. The project is scheduled for completion in 2017".
Queue Point is a 52-residential building project located in Dubai Land and targets middle income groups. Moreover, Al Mazaya owns 29 plots of land being developed by third party investors. Construction of the projects is progressing in full swing and Al Mazaya has already sold 80% of the residential units in Queue Point and completed 75% of the units. The project is developed in Al Liwan in Dubai Land over a total area of 13 million square feet.
Recognizing and honouring success partners:
During the press conference, Chairman of Al Mazaya accompanied by the Group CEO honoured the successful partners, and presented commemorative plaques to them in recognition of their outstanding contribution to real estate sector and developers in the UAE. The list of honorees included Dubai Lands Department, Real Estate Regulatory Authority (RERA), Dubai Properties Group, Mashreq Bank, Emirates Islamic Bank, Dubai Islamic Bank, Place Community Managers, Harbor Real Estate, FAM Properties, Options Furniture and Sahara Media Consultancies.
Al Mazaya has also honoured a number of GCC media conglomerates in the region, in recognition of their outstanding efforts and the significant role they have played in serving the real estate sector and disseminating the truth to audience in a straightforward, unbiased and professional manner.
End