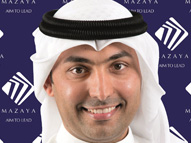 Al Mazaya Holding corroborates feasibility of investing in middle-income housing developments
The company adds 1,260 units to its diverse project portfolio Al Saq'abi says: "Al Mazaya is one of the region's leading real estate developers." "We have an ambitious vision for expanding into the international market."
Dubai: 9th September 2017
Al Mazaya Holding has announced it will participate in the Cityscape Global in Dubai, which is scheduled on September 11-13, as part of the company's strategy to have a distinctive presence at local and regional property exhibitions in consolidation of its ranking as one of the region's pioneering real estate developers.
Al Mazaya Holding's participation in this year's edition of the international property exhibition comes to reaffirm the company's solid financial status and robust operational performance which are backed by a diverse portfolio of projects in different parts of the region.
Commenting on the company's participation, Al Mazaya Holding Group CEO Engineer Ibrahim Al Saq'abi said," Like every year, Al Mazaya is pleased to participate in this year's edition of Cityscape Global, which is the leading industry event in the region. However, our participation every year comes up with a new value to our clientele, providing them with new promising investment opportunities and projects which will be showcased through our distinguished stand in the event."
"Al Mazaya pursues a well thought-out strategy that reflects our vision for the future. This well-calculated strategy, Thank God Almighty, has paved the way for us to achieve multiple successes in all the projects that we have launched in all the markets we operate. Now we have become one of the major real estate players in the Gulf real estate market with total assets of KWD242.13 billion (AED2,956 billion) by the end of H1 2017. We are now about to usher the company into a new phase of distinguished global presence," he said.
"Our participation this year will be distinguished with a new array of projects for sale and investment that cater to the needs of large segments of clients who are looking for investment and homeownership opportunities at reasonable prices, especially in Dubai and Muscat."
During the Cityscape Global, the company intends to promote the residential units of Phase III of its largest development "Q-Point" in Dubai. Up to 95 per cent of the project's residential units have been sold and the company has fully completed the construction work of the project's 3,131 apartments which boast different design techniques and spaces.
Al Mazaya will also offer for sale, during the exhibition, the Phase II of its 253-apartment of Q-Line Project in Dubailand. The dual-building project is still under construction and expected to be completed during the first quarter of 2018. The project's 229-apartment first phase has been successfully completed and handed over to their owners in 18 months.
Al Mazaya will showcase its new project Q-Zone where architectural designs have recently been completed and the main contractor has also been hired. The project consists of 505 apartments and it is expected to be completed in 2019.
Talking about the company's focus on projects targeting middle-income housing segment in Dubailand, Al Saq'abi said, "The Liwan area in Dubai boasts several advantages, a atop of which comes its strategic location as it lies at the intersection of Sheikh Mohamed Bin Zayed Road and Al Ain Road with close proximity to major facilities and destinations, including Dubai International airport, Downtown Dubai, and Burj Khalifa as well as many other hotspots leading to Expo 2020 Dubai site. In addition, we always seek to identify market needs and provide affordable prices in the Emirate of Dubai."
Al Mazaya will bring its other projects from Sultanate of Oman and Turkey to the property exhibition as the company has recently completed the foundation work of its residential project in Oman - Al Mazaya Residence, which is due to be fully completed and handed over to its owners during 2018. Around 25 per cent of the work on this project has already been finished. Al Mazaya Residence provides integrated services and its first phase consists of 120 apartments and 28 shops. Up to 4 per cent of the project has been sold following a large-scale marketing campaign organised by the company in the Omani capital.
In Turkey, the company has launched its Ritim Istanbul Development which consists of 6 residential towers and a shopping mall. Up to 80 per cent of the project's residential units has been sold and the mall now boasts a 50 per cent occupancy. Efforts are also being made to increase the project's sales as well as the mall's occupancy.
In the meantime, Al Mazaya seeks to achieve other objectives during Cityscape Global, including identifying latest real estate developments at the regional and international levels and exploring new opportunities on fresh markets as part of its global market research policy which is aimed at seizing the best possible and feasible opportunities available in the industry.
Appreciate publish this report on Sunday 10 September 2017
END